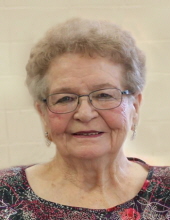 Obituary for Adeline S. Lindell
Adeline Sofie Lindell, age 93 of Cannon Falls, died on Friday afternoon, July 28, 2017 at St. Crispin Living Community in Red Wing.
Adeline was born on April 23, 1924 in Park Rapids, MN, the daughter of Edmund and Sarah (Jordahl) Hanson. In the late 1930's-early 1940's, she sang, played guitar and bass, and yodeled with the Scenic Valley Mountaineers. She married Willard M. Lindell on November 7, 1942 at Urland Lutheran Church. They made their home in Leon Township, where they raised their family. She worked side by side with Willard running the family farm and business. They were longtime active members at Spring Garden Lutheran Church. Adeline was involved in the Willing Workers and quilting group. She was in a bowling league for many years and was also in a couples league with Willard. They loved playing cards and traveling around the world. Willard died on September 1, 1990.
Adeline adored her family, and was generous with her love and time spent with them! They are known as her 'tribe.' She loved to cook and bake cookies, and would always ask, "What can I send home with you?" She will be remembered for her faith, and prayed for her family every night! She enjoyed watching and feeding the birds. She loved pop culture and current events, and kept up on happenings in all areas. She was open and accepting of all!
She was preceded in death by her parents; husband of 48 years, Willard; sons-in-law, Gary Benson and Bob Norstad; sister, Gladys Neseth; and brothers, John, Clarence, Duane, and Gordon Hanson.
She is survived by her children, Margene Benson of Cannon Falls, Bonnie (Jim) Norstad of Rushford, Martha Norstad of Lanesboro, Merlyn (Brenda) of Cannon Falls, Val Rae (Steve) Haggstrom of Cannon Falls, Robert (Michelle) of Pequot Lakes, and Mark (Glenda) of Cannon Falls; grandchildren, Craig (Lori) Benson, Dan (Mary) Benson, Sarah (John) Samuelson, Julie (Cory) Knowlton, Dawn Epps, Greg (Kim) Norstad, Michelle (Chris) Cook, Kelly (Dwayne) Jahnke, Jeff (Sara) Norstad, Justin (Mandy) Norstad, Lisa (Megan) Lindell, Jamie (Michele) Lindell, Casey Haggstrom (Dale Hallcock), Katie (Jeff) Sjoblom, Bekki (Ben) Bakken, Angela Lindell (Jorge Tirado), Heidi (Alan) Gergen, Scott (Jessica) Lindell, Matt (Nicole) Lindell, and Lauren Lindell; 49 great-grandchildren and one on the way, and 1 great-great-grandson and one on the way. She is also survived by her brother, Robert (Charlotte) Hanson of Hutchinson; sisters-in-law, Florence Hanson of Rosemount and Oney Hanson of Lake Mills, IA; and many nieces and nephews.

Visitation will be held on Friday, August 4 from 4-8 p.m. at Lundberg Funeral Home in Cannon Falls. Funeral service will be on Saturday, August 5 at 11:00 a.m., with visitation from 10-11 a.m., at Spring Garden Lutheran Church. Interment will follow at the church cemetery. Her grandchildren will be pallbearers.
In lieu of flowers, memorials are preferred.
Previous Events
Visitation
Lundberg Funeral Home
5839 Hwy 19 Blvd
Cannon Falls, MN 55009
Visitation
Spring Garden Lutheran Church
10239 Co 1 Blvd
Cannon Falls, MN 55009
Service
Spring Garden Lutheran Church
10239 Co 1 Blvd
Cannon Falls, MN 55009
Cemetery Details
Location
Spring Garden Lutheran Cemetery
10239 Co 1 Blvd
Leon Township, MN 55009