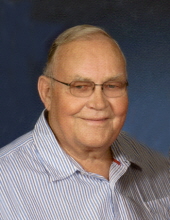 Obituary for J. Norman Clauson
J. Norman "Norm" Clauson, age 84 of Cannon Falls, died peacefully at home on Friday morning, July 28, 2017.
He was born John Norman Clauson on June 29, 1933 in Red Wing, MN, the son of John "Fred" and Pearl "Nettie" (Lundell) Clauson. He attended Cannon Falls High School, graduating in 1951. He married Correne Gronvold and they had four children together. They later divorced.
He married Joanie (Fredell) Hanson on October 30, 1982 at Spring Garden Lutheran Church, where he continued his active membership throughout his life. He served on the church council, Sunday school superintendent, and various boards.
He was a dairy farmer on his family farm from 1954-1978, when he started his trucking business hauling livestock. In 1982, he went to work for Leon Township doing road maintenance for 12 years. He and Joanie owned and operated the Shades of Sherwood Campground near Zumbrota from 1990-2002, when they retired. They love meeting people and socializing. Through their campground experience, a 'campground family' was started, and they have many lifelong friends!
Norm served on the Leon Township Board, Belle Creek Creamery Board, Farmers Union Board (local and county levels), and Vasa-Spring Garden Insurance Board.
He was preceded in death by his parents, and sister, Mary Lee.
He is survived by his wife, Joanie; children, Deb (Jeff) Harrison of Jacksonville, FL, Ruthie (Dave) Sjoblom of Wanamingo, Diane (Pat) Whalen of LeRoy, and Paul (Elrene) Clauson of Kenyon; step children, Scott (Sandy) Hanson of Cannon Falls and Vonnie (Mike) Dreier of New London; 5 grandsons, 8+ great-grandchildren, 8 step grandchildren, step great-grandchildren, and step great-great-grandchildren. He is also survived by sister, Dorothy (Donald) Anderson of Rochester; brother-in-law, Dick (Portia) Lee of Peterson; sister-in-law, Judie Shoemaker of Lake St. Louis, MO; and many nieces and nephews.

A visitation will be held on Tuesday, August 1 from 4-7 p.m. at Lundberg Funeral Home in Cannon Falls. A memorial service will be held on Wednesday, August 2 at 11:00 a.m., with visitation from 10-11 a.m., at Spring Garden Lutheran Church. Honorary pallbearers will be Jay, Jeff, Brian, Adam, Peter, Tim, Matt and Joe.
In lieu of flowers, memorials may go to Spring Garden Lutheran Church, Cannon Falls or Heartland Hospice Care, Rochester.
Previous Events
Visitation
Lundberg Funeral Home
5839 Hwy 19 Blvd
Cannon Falls, MN 55009
Memorial Service
Spring Garden Lutheran Church
10239 Co 1 Blvd
Cannon Falls, MN 55009
with visitation from 10-11 a.m.