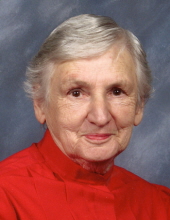 Obituary for Ruth Marie Springer
Ruth Marie Springer, age 87, of Cannon Falls, died peacefully Thursday, July 20, 2017 at the home of her son, John Springer, near St Peter, MN.

Ruth M. Springer was born on September, 24, 1929 in New Prague, MN, the daughter of Wilhelm and Marie (Bohnsack) Heine. She was baptized, confirmed and married at Friedens Ev. Lutheran Church, Lanesburg, MN. Ruth graduated Valedictorian from New Prague High School in 1947 and then attended Gustavus Adolphus College on scholarship for one year. She graduated with a two year teaching degree from Mankato Teacher's College. Her father purchased the first milking machine for their dairy farm after his ace milker left for college. She later completed her BS Degree from Mankato State University. She worked as an elementary school teacher in Winthrop, Albert Lea, and St. Paul. From 1960 to 1998 she worked as a substitute teacher in the Cannon Falls Schools and tutored many students.

On June 10, 1956, Ruth was united in marriage to Walter Springer. They moved to Cannon Falls in 1960. Ruth served on the Cannon Falls Library Board, was an AARP Tax Aide, and a backyard rain gauge reporter for the state climatology office for 39 years. She was a member of St. Paul's Ev. Lutheran Church where she was active as a Sunday School Teacher, a member of the Ladies' Aid, and a VBS Leader. She liked helping around the church, doing altar flowers, and quilting. Ruth was a voracious reader, and in earlier years she rode her bicycle to the library almost every day. She had a strong faith and believed in education, discipline, and conservation. Ruth was very thankful for all her special friends and neighbors who helped with household chores, errands, lawn mowing, and keeping the sidewalk free of snow.

Survivors include her sons Dale of Cannon Falls and Dr. John (Holly) Springer; grandchildren Elisabeth, William, Marta, and Matthew; brother Wilfred (Carol) of New Prague, MN; sisters Louise Matilla (Elmer) of Winona, MN and Judith Gease (Gary) of Alexandria, MN, as well as many nieces and nephews. She was preceded in death by her parents and husband Walter.

Funeral services will be at 11:00 am on Monday, July 24, 2017 at St. Paul's Evangelical Lutheran Church in Cannon Falls. Visitation will be from 6:00 to 8:00 pm on Sunday, July 23, 2017 at the Lundberg Funeral Home, 5839 Highway 19 Blvd., Cannon Falls, and one hour prior to the service at the church on Monday.
Previous Events
Visitation
Lundberg Funeral Home
5839 Hwy 19 Blvd
Cannon Falls, MN 55009
Service
St. Paul's Ev. Lutheran Church
30289 - 59th Ave Way
Cannon Falls, MN 55009
Visitation one hour prior to service at church